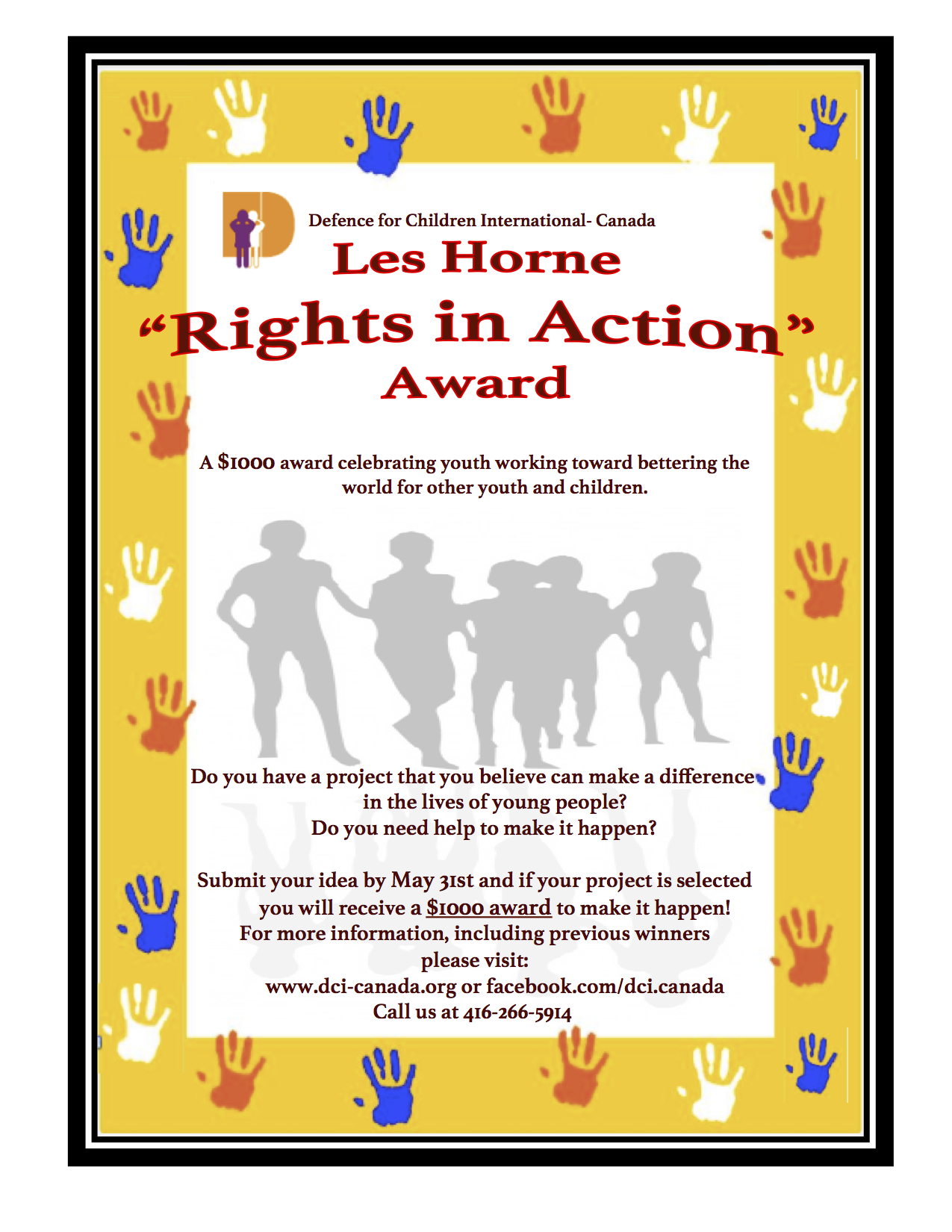 What is the Les Horne Rights in Action" Award? This is an award presented by DCI-Canada to honour the late Les Horne, Ontario's first Child Advocate and a strong supporter of children's rights in Canada and across the world. For this award, we are looking for project proposals that will further the rights of children. The best proposal will receive recognition on DCI-Canada`s web site and an award of up to $1000.
Who can apply? Any young person or group of young people may apply. The term "young person" is somewhat flexible and could apply to anyone up to age 25. We will particularly welcome proposals from children or youth who have faced struggles in their lives. It may be that you are in the child welfare or youth justice system. You could be someone with a physical, emotional or developmental challenge. You may be someone bullied at school, from a First Nations community, a visible minority culture, and/or from a LGBT background. You do not need to disclose this information in your proposal.
How and Where do I apply? Write up your idea on no more than three pages (or provide a brief video) and e-mail it to contact@dcicanada.org. We will send you back an e-mail saying we have received it. If you do not have access to email you may send your idea to Defence for Children International-Canada at 20 Spadina Rd. Toronto Ontario M5R 2S7. Attention: Agnes Samler. Please include your contact information.
When do I need to send in my proposal? Proposals are to be received by May 30, 2015. We will contact you using the information you have provided when we receive your submission confirming its reception.
Who decides on the best proposal? All proposals will be reviewed by a panel of young people who will recommend the best proposal to the DCI-Canada Board of Directors.
How will I be notified with results? The recipient of the award will be contacted by phone and the name(s) of the 2015 award recipient(s) will be posted on the DCI Canada website.
I still have questions, who can I contact? You can leave a message and your phone number at 416-266-5914 or 416-907-7432. You may also e-mail contact@dci-canada.org or use the mailing address above.